Game Downloads
You're located in category:
Battle Arena Toshinden
Review 1:

Battle Arena Toshinden is a game similar to games like Virtua Fighter and Mortal Kombat. You start the game by selecting between 8 different fighters where you choose one and the computer will then select one randomly that you will have to fight against.

Each character is equipped with a special weapon and each weapon has it strengths and weaknesses. In the end you won't notice and huge differences between them although I did end up with favouring a few characters because of both their look and their weapon. The game screen is quite well done with excellent 3D graphics and good character animation and movements. There are several different combat formations but sadly only few of them are effective which also means that you will end up using these all the time as you finds out that those are all it takes to beat the computer.

You also get the option to play in two player mode which adds additional entertainment to the game as this feature usually does. Battle Arena Toshinden doesn't reach a game like Virtua Fighter though as the game doesn't offer the same challenges and you feel the game is a bit basic at certain areas as well. A recommended choice for the fighting game player though but not much more than that.

Review 2:

A worthy Virtua Fighter clone, Battle Arena: Toshinden pits a group of brave warriors against the evil Gaia and his henchmen. Each character in this game is equipped with their own, unique weapon which aids them in combat. Each weapon has a varying reach and weakness. The game features 3d-modeled characters, sharp backgrounds, and a lot of action. One drawback, however, is that it is all too easy to win battles. Even in the most difficult mode setting, little knowledge of special attacks or defense is needed to rack up wins. In fact, the game doesn't even force you to figure out and learn special and combination attacks - simple keypresses activate them. Despite its polished graphics and smooth gameplay, Battle Arena: Toshinden is missing quite a bit.
Download full game now: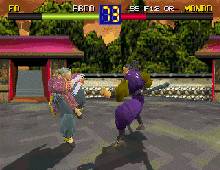 Battle Arena Toshinden screenshot
People who downloaded this game have also downloaded:
Battle Arena Toshinden 2, Blood 2: The Chosen, Batman Forever: The Arcade Game, Afterburner 3D