Game Downloads
You're located in category:
Blam! Machinehead
Blam! Machinehead is an action-filled, bizarre 3D shooter by Core Design with nice graphic effects and a B-Movie flair that doesn't take itself too seriously. Here's the plot: an evil DNA has gone berzerk and is eating up the whole world. You play Kimberly Stride, a scientist who has been working on an anti-virus. Unfortunately your perverted assistant force you to take on the task of battling the DNA and its inventor, the machinehead. To do this, you have to travel through the weird infected worlds in by piloting a futuristic hovercar, armed to the teeth with guns , flame throwers, missiles, grenades, and other heavy artillery.

The game is like any other 3D shooter: kill everything that moves. What makes Blam! different is that the enemies are quite imaginative and appropriately scary. You will battle spiders, gigantic flies, and other hideous creatures. This is also more than just a mindless shooter: for one thing, your ammo is limited, and it is essential to hide behind corners DOOM-style to effectively take out enemies.

The game is divided into four areas, each of which has four stages. If you finish one stage, you move on to the next one with similar graphics but a slightly different objective. Fortunately, nice level and enemy designs remove what could have led to tedium, and you end up with a better-than-average shooter that is quite fun to play, although far from being a classic. My biggest gripe is that the levels are far too long - if you have little patience for long-level action games, stay away from this one. Otherwise, it is well worth a look.
Download full game now: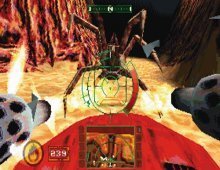 Blam! Machinehead screenshot
People who downloaded this game have also downloaded:
Blood 2: The Chosen, Abuse, Armour-Geddon, Assault Rigs, Beats of Rage