Game Downloads
You're located in category:
Bananarama
Review 1:

Bananarama is a tile based platform puzzle game with influences from the likes of Lode Runner, Bomberman, and even Indiana Jones. It features 16 levels of play, one bonus game, and 3 skill levels. The story is of course very serious - at least to the "insane gamer" so you can put what you into it. Recently the disease called man has ravaged this island. The population of intelligent monkeys has been hunted to near extinction. Armed with the training to use bombs and learn other skills Dr. Bombkey has given you the means to escape.

When I started to play this game I started to think back at the many arcade games I played on my Commodore 64 and Amiga as Bananarama offers the same funny gameplay as many of the classics from those two systems did. You have to collect as many bananas as possible and on your way you can also collect bombs and get the chance to win different things from a machine. This part of the game is quite weird since it is a completely different thing to include in the game but of course that was the main idea behind it as well.

If you are looking for an entertaining game that won't be too hard to get started with I can only recommend Bananarama since almost all things that makes a good arcade game are included within the game. And unlike most games from Natomic Studios the entire game screen is used for once instead of the very small screen that is almost standard with their games.

Review 2:

Bananarama is a fun puzzle/action old game that combines the best elements of Lode Runner, Bomberman, and Jetpack into an innovative and fun package. The game features interesting gameplay, 16 levels spanning 4 different worlds, one bonus games, 3 skill levels, and even some original (and quite catchy) tunes.

You control a monkey whose goal is to collect bananas on each level to escape man's invasion of Mongoo Island. Along the way, you must deal with menacing spearmen and other enemies who get in the way. You can only walk and climb ladders at the beginning, but you will gain a new skill every 4 levels (i.e. one world) you complete. These skills range from the ability to jump, to the ability to throw bombs, and the (sadistically fun) remote bombs.

With excellent cartoony graphics, fun gameplay, and a good mix of puzzle and action elements, Bananarama is one of the better releases from the freeware scene. The only gripe I have about the game is that it is quite short and a bit on the easy side. The instructions are also not very clear, although trial and error is enough to learn the basics. Still, Bananarama is a good example of what a creative mind with a game creation app Macromedia Fusion can achieve. Recommended.
Download full game now: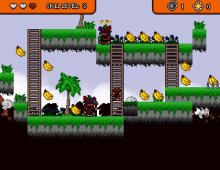 Bananarama screenshot
People who downloaded this game have also downloaded:
Batman: The Caped Crusader, Back to The Future III, Amazing Spider-Man, The, Ball Blazing Fantasy, Alley Cat