Game Downloads
You're located in category:
Alley Cat
Review 1:

This is the first PC game I have ever played! I know I've spent hours and hours playing it and it never got to be boring. Now when I look at it... it's just a cute little game that gets repetitive after some time.

You control a little black cat. Jumping on the trash cans, getting into houses through the windows, catching mice, fishes and avoiding dogs is quite fun. Play this game and remember the good old times!

Review 2:

Alley Cat is a really old but also an extremely nice game from the 1980's. You control a cat trying to seek mice and even romance, on the other hand trying to avoid dangers like dogs and angry brooms.. Yes, brooms. Though released in 1984, Qlley Cat is still a pretty playable game, running perfectly with all modern computers without any slow down needed.

Alley cat features standard 4-color CGA graphics (which was pretty cool those days :). Sounds are handled through your PC's internal speaker and I've got to say that the main Alley Cat theme is pretty catchy. Don't say that I didn't warn you! Only one problem though, I never learned how to quit the game (besides Ctrl-Alt-Del) :-(

Review 3:

Alley Cat would probably best be described as one of the most unusual games ever. It's hard to decide what this game actually is and it took me a long time to get into it. It just looks so simple at first that you think it would be boring. But then you get the idea - there are many things to do, sometimes I came to think it would be close to a simulation ;)

You take the role of a cat and there are mice to catch, dogs to avoid and many other things - and most of all - get to the female feline. I heard people talking about this game like it was a kind of a philosophy - well... maybe that's a bit too much - it sure is a classic though!

Review 4:

If there were an award for "most enduring gameplay per KB of data," Alley Cat would have won my vote. In what seems like an incredible feat of programming, Bill Williams was able to pack hours of fun and diverse gameplay into only 38KB of space. As an alley cat, evade dogs, humans, and other obstacles to rescue your sweetheart. One of the most amazing things about the game is that it actually sets its own clock speed so that the speed of your computer is irrelevant. This means you don't need Moslo to enjoy the game :)

Review 5:

You're a cat and you have to do the usual "cat things" to survive and get the female feline. Eat fish out of the fish bowl, catch mice, and steal milk from sleeping dogs are some of the things you have to do to survive in this surreal masterpiece from Bill Williams.

Review 6:

Oooo a total classic!!! This was one of the first ever games I played on a PC. I was at my cousins house at the time, I even preferred Alley Cat to Kings Quest 1! I was always getting into nasty fights with that dang dog ;)

Its got the CGA graphics, so if you've got a pair of shades handy you might want to grab them. But then again, you are visiting my site, so you might already have them on! The graphics were really good for that time though. I mean, we're talking 1984 here.

Most of the happenings in this game are inside the building, but it's a mission to get to the window first! You have to avoid the dog, which every now and then runs along the ground by the trashcans. Jumping on the trashcans would be an obvious choice here. Then you climb up and along the clotheslines and into the windows. Of course, there is always going to be more challenges, such as mean people throwing stuff out the windows. Inside the windows are the so-called levels of the games, like sub-games. Catching fish, catching mice etc you gain points. The ultimate goal is the pretty white cat that our hero loves and wants to kiss!

This game gets a lot harder as the levels go up. The number of trash cans decreases, and the number of times the dog appears is nasty! Also the same with the people throwing things out the windows. Inside the windows things get a lot harder as well.

All in all this is a classic! The quality of the game, and the gameplay itself is pretty spectacular for a 1984 game that is only about 30kb in size. One downfall I would have to say is that it gets really hard, and I'm not exactly the best gamer around, so I kind of couldn't stick with it when it got too much for me!
Download full game now: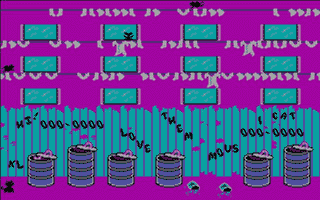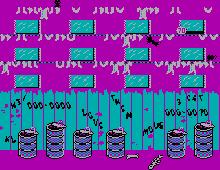 Alley Cat screenshots
People who downloaded this game have also downloaded:
Amazing Spider-Man, The, Back to The Future III, Arkanoid