Game Downloads
You're located in category:
Avoid the Noid
Avoid the Noid is an advertisement ploy for Domino's Pizza that is a surprisingly playable game. In one of the earliest advertising tie-ins ever made for PC, you play a pizza delivery boy who must deliver a pizza to Doom Industries. You must deliver the pizza to the top floor in 30 minutes or less, or the customer will get a discount and you will lose your job. While making your way up the floors, you will need to avoid the nasty Noid monster, who roams the building looking for pizzas to munch. Although a straightforward platform game with limited playability (you don't even have weapons), Avoid the Noid has a number of interesting tidbits that keep the game fresh. You will come across floor traps, phonecalls, and various other obstacles that complicate the delivery. Overall, a nice little game that is strangely compelling and addictive, although I can't quite put my finger on why (must be that subconscious craving for pizza, after all). The Noid and background graphics are surprisingly crisp for its time, and the animations are very smooth.

Note: This is the very rare EGA (16 colors) version of the game.
Download full game now: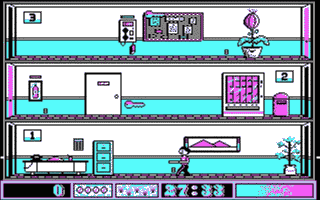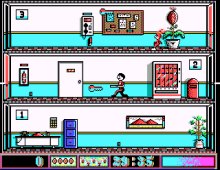 Avoid the Noid screenshots
People who downloaded this game have also downloaded:
Beyond Castle Wolfenstein, Back to The Future III, 4D Prince of Persia, Alley Cat, Aladdin