Game Downloads
You're located in category:
ArmJoe
ArmJoe is a great 2D one-on-one fighting game coded with ASCII's Fighter Maker program. The game is an unofficial tribute to the Les Miseables broadway musical, which is in turn based on Victor Hugo's epic novel of the same name. You can play all of the main characters in the musical/book: Jean Valjean, Cosette, Enjolras, Eponine, and even key 'villains' such as Javert and Thenadier. The game also includes several new characters of the author's own creation, among whom "Judgment" is my favorite. Like other FM games, you can play VS or Battle mode, 1 or 2 players in a variety of backdrops, all taken from the musical.

As you would expect from a quality fighting game, the characters in ArmJoe move fluidly, the graphics are crisp and well-drawn, and the gameplay is challenging. What makes ArmJoe an even better game for fans of the musical/book is that all the attacks and combo moves are based on the actual characters. Pretty Cosette, for example, can actually do a 'kiss of death' - most amusing when you pull it on her adopted father Valjean ;) Each character also has different reactions to other characters' attacks, depending on their relationships in the book. This kind of detail is normally missing in a 2D fighting game, and makes ArmJoe much more fun. Highly recommended to fans of beat 'em ups, and fans of the musical in particular.
Download full game now: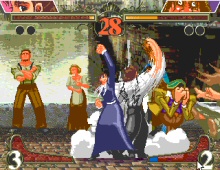 ArmJoe screenshot
People who downloaded this game have also downloaded:
Amok, Battle Arena Toshinden, Blood 2: The Chosen, Act of Fighter, Another Zero