Game Downloads
You're located in category:
Antartic Adventure
Review 1:

Antarctic Adventure is a very cute and funny game from Konami starring Pentarou the Penguin (who later appears in Konami's Parodius) who must journey across the Antarctic to deliver his fiancÚ. The game is played from pseudo 3D, a behind-the-Penguin perspective, as you watch Pentarou jump over pits and avoid walruses and other Antarctic obstacles. First released for the Colecovision, the game is a faithful translation of Konami's hit arcade game of the same name that was only released in Japan. The gameplay is simple, but it's the simple charm that will keep you hooked, just as in many other Konami classics.

Note: the game was never made for PC. This download is the MSX version recompiled to work in DOS with no emulator required.

Review 2:

Antartic Adventure is originally made for the MSX, but Friens Software recompiled it to a PC version with sound. The game is very good. You are a pinguin and got to go around Australia. On the journey you can collect things, you might find shops. The payment is fish, so you must collect fish. And by every stage higher you have less time to reach the finish, so you must hurry.
Download full game now: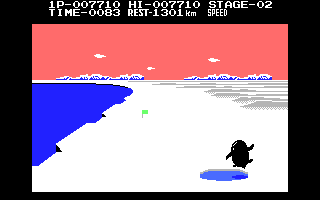 Antartic Adventure screenshots
People who downloaded this game have also downloaded:
Alley Cat, Amazing Spider-Man, The, Back to The Future II, Artura, Alien Odyssey