Game Downloads
You're located in category:
Zak McKracken and the Alien Mindbenders
Review 1:

Great humour adventure game. You play Zak a dull news reporter. You can complete the advetnure by using the words beneath the screen on stuff you see around you. Check this one out!

Review 2:

Zak McKracken is one of the earlier adventure games from Lucasfilm, now known as Lucasarts. Zak is a reporter for a tabloid paper and as such he always has to come up with the most ridiculous stories to print in the paper. This time he has to follow up on a rumor about a vicious two-headed squirrel in Seattle and while he's there he also has to take some pictures of the place where the first UFO siting was made 50 years ago. The intro shows Zak having a dream about aliens, a face on mars, a woman and a mask chasing him around. Altough most of this seems like a lot of nonsense the meaning will become clear as you progress throughout the game.The story has Zak traveling across the entire globe and even beyond when the time is right.

The game uses the first SCUMM engine that was created for maniac mansion and it allows you to piece together sentences with a point and click interface. The top part of the screen shows the location you are in, the middle part has all the commands like pick up, use and turn off. The lower part of the screen shows your inventory and you can scroll up and down to view all the items. You can execute commands by first clicking the command and then clicking on the object in your inventory and/or the main screen. There are flaws that this version of the scumm engine has is that when you move your mouse over an object it will not show anything and you will have to select the WHAT IS option to see if it is an actual object and not just part of the background. Another thing that might annoy you is that the inventory only shows a maximum of four items so you'll have to scroll through it a lot to find the item you want.

Zak is the second game released that uses the scumm engine and it is used in practically the same form as maniac mansion so technically it differs very little from that game. The graphics are colorfull and detailed and it has the trademark Lucasfilm humor that you find in most of their adventure games. This game is an excellent addition to any adventure gamers collection and even better the lucasfan team who created a remake of maniac mansion have also made the new adventures of Zak McKracken for those who want more. I suggest before playing the new adventures you play the original game first as the story is clearer if you do.
Download full game now: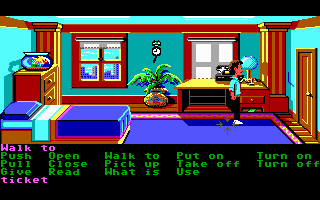 Zak McKracken and the Alien Mindbenders screenshot
People who downloaded this game have also downloaded:
New Adventures of Zak McKracken, The, Maniac Mansion Deluxe, Loom, King's Quest 6: Heir Today, Gone Tomorrow, King's Quest 5: Absence Makes the Heart go Yonder