Game Downloads
You're located in category:
Shannara
Review 1:

Shannara is a great adventure game made by the same people as the popular series from Sierra, Quest for Glory. The story is taken from the novel with the same title so if you have read this one you will have a great advantage compared to people that haven't read it once the game starts.

The game has the same great graphics as games like Monkey Island the later games in the Sierra adventure series like Quest for Glory and King's Quest so you can't complain there. As mentioned earlier the game is based a lot on the original novel and therefore the puzzles in the game is also affected by this and that is why you most likely will be able to solve them faster if you know the story. If you don't know it they are still not that hard but hard enough to give you a good challenge.

Overall Shannara is one of the better adventure games and in my opinion very near Sierra's later adventure games but still not close to a game like The Secret of Monkey Island. But the fact that the game engine, which looks familiar if you are already aware of the more popular adventure games, is very good and makes the game easy to play for anyone. A recommended choice if you are looking for a challenging adventure game.

Review 2:

Quest for Glory creators Corey & Lori Cole to work on a game based on Terry Brook's best-selling fantasy novels was a match made in heaven. You are Jak Ohmsford, son of Shea (the novels' hero), who must seek the sword of Shannara to vanquish evil warlock Brona. Puzzles are easy but fair, with the best ones being those that require help from your teammates. Gripping story and puzzles will keep you playing to the very end. Highly recommended, but be warned: puzzles closely follow the novel's storyline, so if you have read the books, you'll likely find the game far too easy. Overall, one of the best fantasy adventure games ever made, despite a predictable plot.
Download full game now: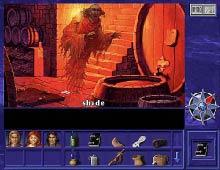 Shannara screenshot
People who downloaded this game have also downloaded:
Sanitarium, Quest for Glory 3: Wages of War, Legend of Kyrandia, The: Malcolm's Revenge, Lost Files of Sherlock Holmes 2 (a.k.a. Case of Rose Tattoo), Legend of Kyrandia, The