Game Downloads
You're located in category:
Mixed up Mother Goose
Mother Goose has mixed up her rhymes, and she calls upon you to help her fix it. It's time to explore the world of nursery rhymes. Armed with your pyjamas and tiny little hands, you set out on your mission. Finding the items which the inhabitants of Mother Goose's world have lost, or bringing them to their homes, will gradually fix all of the eighteen rhymes.

This game is meant for the children we love and those who still have the child within. Controls are easy and intuitive. All you do is use the cursor keys. Picking up something is as easy as walking into it, and as you can only carry one thing at a time, you don't have to worry about cycling through an inventory. To deliver something, it is enough to walk near the person. Same with talking to them. Whenever a person asks for something, their words are in very simple text as well as demonstrated in the picture. This makes the game appropriate for all ages.

Those who enjoy shooting at big, slimy aliens with huge, futuristic guns should probably stay away. But little kids and big kids will surely enjoy the sweet simplicity of a game as awesome as Mixed Up Mother Goose.
Download full game now: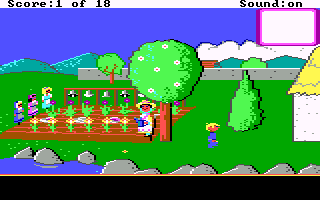 Mixed up Mother Goose screenshot
People who downloaded this game have also downloaded:
Mixed Up Fairy Tales, King's Quest 5: Absence Makes the Heart go Yonder, King's Quest 6: Heir Today, Gone Tomorrow, Maniac Mansion Deluxe, King's Quest 1