Game Downloads
You're located in category:
Innocent until Caught
Review 1:

Another adventure game (yeah, well, so sue me... I happen to love them), and it's a science fiction one too (that's always a good thing, non? ;)

It all starts when Jack T. Ladd gets apprehended by the Taxmen. They want money. Money Jack doesn't have. Or ever will have. When they take him into custody, and search him, they find two wallets. One of his own, and one of someone else, both empty, save a couple of cents. They set an ultimatum; Pay up within [x] time or else. Jack nods, scared as they come, and he is released. The game actually starts when you land on a planet, which Jack seems to have known quite well a long time ago.

The game is a typical point&click adventure. The art is decent, sometimes a bit on the plain side, but that's not too bad, as the story itself is good enough to make up for it all. The inventory system however is nice. It works as a shelve. You can place items anywhere you want them. I'm not going to spoil anything besides the intro (which I already told you), and I'm going to let you play it without too much knowledge :) It's worth it.

Review 2:

Although by no means revolutionary, Innocent Until Caught is a fun, "light" sci-fi romp in the spirit of Rex Nebular that features a creative interface for using and combining items.

You are Jack T. Ladd, an intergalactic thief and womanizer who gets into one misadventure after another in his quest for fame, fortune, and --of course-- woman. The best thing about the game is the many innovative puzzles that have creative yet logical solutions. Using the game's excellent "sandbox" interface that allows you to place object anywhere in your inventory and manipulate them, you must combine a lot of items together to create useful gadgets. The game's mildly raunchy and cheesy dialogues are funny and never overkill, and most characters are memorable. Definitely a must-play for anyone interested in casual sci-fi games that nevertheless offers tremendous play value.
Download full game now: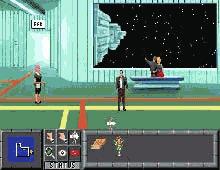 Innocent until Caught screenshot
People who downloaded this game have also downloaded:
Maniac Mansion Deluxe, Guilty (a.k.a. Innocent Until Caught 2), Other Worlds, Flight of the Amazon Queen, Legend of Kyrandia, The: Malcolm's Revenge