Game Downloads
You're located in category:
Future Wars (a.k.a. Les Voyages du Temps)
Review 1:

What an unlikely hero! You are a window cleaner. A common, little window cleaner. Yet you discover, more due to your notorious curiosity than by mistake, a time machine in your chiefs back office. Strange? Absolutely. Your adventure in the past and the future is about to begin. The quest? Four words: Evil aliens. Beautiful girl. Any questions?

Future Wars, Delphine Software's debut and first attempt at an adventure game, is a fun adventure controlled via a home-made point-and-click interface. A right click brings up the verb menu. After choosing one of the six commands, you point the mouse over the desired target and execute with a left click -- straight and simple. Small objects are depicted by enlarged drawings -- once you found them. Pixel hunting is a very frequent sport in Future Wars, making the game extremely frustrating as you must move the mouse slowly across the screen, looking for 1x1-pixel objects you may have missed. Lazy players are punished with puzzle dead-ends. Fortunately, the plot is inventive enough to keep the players glued to the screen and forgive the game's quirks. Overall, a worthy first release that bodes well for the company that would later be famous for excellent action/adventure games.

Review 2:

Alien invasion and anti-hero in main role. Game has pretty good story but I don't like the interface (it's not very user friendly). You should check it out yourself.
Download full game now: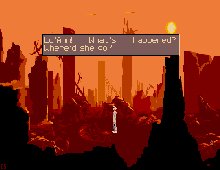 Future Wars (a.k.a. Les Voyages du Temps) screenshot
People who downloaded this game have also downloaded:
Flashback, Out of This World (a.k.a. Another World), Flight of the Amazon Queen, Gene Machine, The, Darkseed