Game Downloads
You're located in category:
Gene Machine, The
Divide by Zero more than redeem themselves after the horrendous Orion Conspiracy with this outstanding cartoon adventure that unfortunately got very limited worldwide distribution (probably due to the fact that the game was published by little-known Vic Tokai). Set in Victorian Times, it casts the player as good-natured adventurer Piers Featherstonehaugh, who, along with his manservant Mossop, bid to save the world from the evil Dr Dinsey, who is planning to create an army of mutated soldiers using the Gene Machine and take over the world.

The Gene Machine is a traditional point-and-click adventure with an intuitive user interface. Click on an item on screen, for example, and you'll be presented with a set of icons, containing appropriate actions for you to take. This may include 'look', 'taste', or 'take' depending upon what the object is. Should you choose 'take', the object will be stuffed into the traditional bottomless pockets that all adventure game characters have. Other features that will make fans of old Sierra games of yore very happy are the score system, which will let you know what percentage of the game you have completed, and conversational topics that allow you to actually ask what you want to know, as opposed to repeatedly clicking on them.

The best part of the game is the wonderful plot that will be familiar to fans of H.G. Wells' Victorian sci-fi novels, which means it combines scientific innovations and historical anecdotes into a fascinating experience. The game is also huge -- it features dozens of characters and locations, as well as Divide by Zero's hallmark of challenging, ingenious puzzles that will stump even the most experienced players. But The Gene Machine is a joy to play, and it never becomes frustrating or boring. There are a few puzzles that are irritating in a sense that there are insufficients clues about the solutions, but for the most part they are fair. If you're looking for a fun cartoon adventure that is funny, atmospheric, and challenging, you can't go wrong with The Gene Machine.
Download full game now: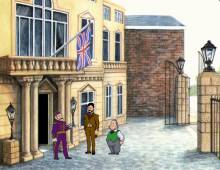 Gene Machine, The screenshot
People who downloaded this game have also downloaded:
Flight of the Amazon Queen, Lost Files of Sherlock Holmes 2 (a.k.a. Case of Rose Tattoo), Lost Files of Sherlock Holmes 1 (a.k.a. Case of the Serrated, Sanitarium, Maniac Mansion Deluxe