Game Downloads
You're located in category:
Veil of Darkness
Review 1:

One of the few adventure games from SSI. But this doesn't make the game bad. It's actually one of the best games when it comes to the atmosphere in the game. You have just crashed with your airplane and wake up in a large creepy house. Now you have to explore it and find out about where you exactly are as you can't remember to locate the exact area you were at when you crashed. I won't say too much about the people and "things" you will meet in the game, but everything won't be nice.

The game is rather easy to play and the interface when you are talking are good as well. The game includes some fighting but you are the one deciding on how hard it has to be as you can choose the difficulty in the game from the start. Overall a good adventure game offering some different aspects not seen in many other adventure games.

Review 2:

Veil of Darkness is a familiar sight for players of The Summoning, as both games share a common top-down 3/4 approach to the adventure and the world interaction, although Veil is decidedly more adventure-oriented. The horror story is based around a pilot who crash-lands his cargo plane in the haunted valley of Romania's Transylvanian Alps in the late 1930s, and it's now up to him to stop vampire Kairn. The great story and atmosphere are guarantee to please both adventure and RPG gamers, despite some frustrating combats near the end.
Download full game now: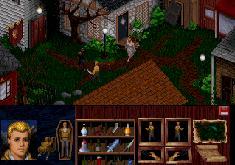 Veil of Darkness screenshot
People who downloaded this game have also downloaded:
Gobliiins, Gobliins 2, Immortal, The, Goblins 3, Al Qadim: The Genie's Curse