Game Downloads
You're located in category:
Lost Dutchman Mine
Review 1:

The game puts You in role of a gold miner looking for a legendary Lost Dutchman mine. This is based on a true story of a German immigrant that found gold in The Superstition mountains in Arizona. It was never found but with this game You may change the history. Now, help the poor guy in his search and try to stay alive during that time.

Review 2:

A rather interesting game from Magnetic Images taking place in the the golden when the goldrush was around. You have to start the game by raising a lot of funds to be able to succeed later in the game.

There are several ways you can do this like getting bounty rewards, poker games and much more. Your real mission consist of that you have to find a map to the lost dutchman mine. A somehow different but ok game which is recommended if you are not into only action or sport games.

Review 3:

A "one-hit wonder" from short-lived Magnetic Images is a solid game set in the Gold Rush of 1800s. As newcomer to Goldfield, you must find the map to legendary Lost Dutchman Mine, then claim it for fame and fortune. There are numerous ways to raise cash to fund your venture: you can pan for gold in the river, kill wanted criminals to claim bounty, and play poker in the saloon. A slow-paced game, but there are more than enough options to explore.

Review 4:

You start off with some cash, to buy supplies for your adventure to find the Lost Dutchman Mine. Looking for information on this game, I was rather surprised that there was such a place around the state of Arizona. Go figure? So where was I? Yes, you start off in town, and you have to buy supplies, such as mining equipment, weapons, food etc. You can make more money panning for gold in the rivers, being a bounty hunter etc.

Apparently there are donkeys to help you carry stuff, as you are only one mere man remember. This enables you to take more food. You can also find more food by going fishing in rivers and stuff.

There are always dangers when on a journey to find a goldmine - snakebites (you're gonna need a doctor), Indians, and other people with big guns that want to kill you dead.

This is a pretty unheard of game, and you can't really find any information on it! It rates pretty well as an adventure game, you should play it just to get it a bit more well known ;)

Review 5:

Well, in this game you going to find the Dutchman Mine. On this adventure you start in a town where you buy stuff like food and bullets, etc. Along the road you meet Indians, snakes, etc. The graphics are very very nice.
Download full game now: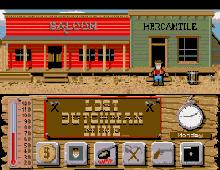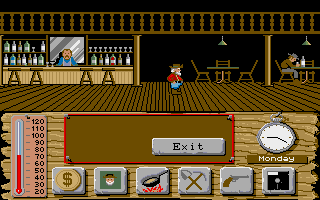 Lost Dutchman Mine screenshots
People who downloaded this game have also downloaded:
Gobliiins, Veil of Darkness, Star Flight, Gobliins 2, It Came from the Desert