Game Downloads
You're located in category:
Police Quest 2: The Vengeance
Review 1:

Sonny dealt with the dangerous Jessie Bains in first PQ game, but bad guys always come back. Bains is no exception and this time he's looking for revenge! He captured Sonny's fiancÚ and is threatening to kill her unless Sonny surrenders to him. Will that happen? Download this great game and see it for yourself.

Police Quest 2 is still a textual adventure. This makes it hard to play but it is also very interesting. I guarantee you will enjoy playing it.

Review 2:

"The Vengeance". Jessie Bains, aka The Death Angel, escapes from prison and kidnaps Sonny Bond's girlfriend. The game's graphics was enhanced since the first Police Quest, but the game still has the "type in a command" interface.
Download full game now: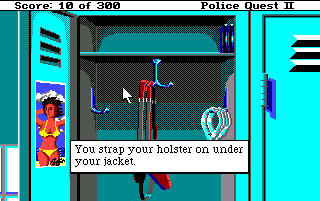 Police Quest 2: The Vengeance screenshot
People who downloaded this game have also downloaded:
Police Quest 1: In Pursuit of the Death Angel, Police Quest 3: The Kindred, Police Quest 3: The Kindred, Leisure Suit Larry 1: In the Land of the Lounge Lizards, Leisure Suit Larry 3