Game Downloads
You're located in category:
Leisure Suit Larry 1: In the Land of the Lounge Lizards
Review 1:

Is there anyone out there who does not know who Leisure Suit Larry is? Al Lowe's funny character is definitely one of the most famous of all time! In his everquest for a female that'll please him, Larry is ready to do just about anything. And this is the first story in a big series that made a huge success.

Larry is a simple love looking guy just like many of us. In this game his only goal is to actually find a girl that'll be attracted to him. Will he be successful? It is up to you.

A graphical, text-commanded adventure does not use Amiga's abilities to create wonderful graphics, but the fun gameplay is enough to make you look for more once you complete this rather easy game. Long live Larry! And Al Lowe... I hope you regain rights to make more Larry games in the future!

Review 2:

Leisure Suit Larry is another one of those cult Sierra series starters. Yep, this one started the good old Leisure Suit Larry saga. with 6 games in total (not including the casino game, etc), this is obviously a great series in many people eyes. I enjoyed this game quite alot, but I didn't find it THAT good... The humour is ok, but not brilliant. But the successors to this game are quite good in comparison, although I didn't like those that much either. Well, I am not exactly the biggest fan of text adventures, but I suppose that this one is quite good. It's remake was a vast improvment though, with alot more pictures, etc. I usually don't but into all the graphics stuff, but with this game, I'm afraid that I don't think that the gameplay alone is enough. I prefer a good point and click adventure to a graphic text adventure anyday. I'm not really sure why, but I guess that it's because they are so much more easier to get involved with instead of typing loads of words before you get to the one they want. The storyline for the game is also not exactly ground breaking. You simply play Larry the Laffer, a total loser 70's reject guy who wears white suits. You have to help Larry get laid or get as many girls as he can in order to complete the game with as many points as possible. I still enjoyed the game though, I just don't think it's as good as it's made out. The annoying bit at the start where you have to answer aload of stupid questions to prove your age doesn't exactly make me start cracking up with laughter either. I guess that Al Lowe must have found it amusing though. It doesn't really work very well, since if they didn't have it on then parents could just hide the game from kids, and if kids wanted to find out, they could just ask there parents... Anyway, all that cussing aside, this game is OK.

There is no simple way to pass the intro, so you just have to guess/know the answers until you get through.

Review 3:

Larry is a middle-aged swinger and disco-lover, who has one problem: he is still a virgin. He has one night to try his luck in a city called Lost Wages, and to get a girl before the dawn. The game has similar graphics to the other early Sierra adventure games (like Police Quest 1). In the begining you have to prove that you're over 18, so you must answer 5 test questions. If can't the game will quit.

Review 4:

Leisure Suit Larry is definitely an Adults Only game. The entire objective is to get Larry laid. Larry is a lounge lizard and you guide him through the night on his quest. You must gain money and items through gambling and completing different tasks. It is like a giant puzzle to earn points, and the more points you earn, the closer you are to getting laid. But beware of the "easy way" because you will end up thrown into a dumpster or robbed and tied to a bed.

It is a role playing game played linear across the city. To get from one place to another you must walk left or right of the screen and to get far distances you must take a taxi. Note that this costs money. I am not going to spoil the game and divulge any secrets, but instead let you figure the game out yourself. It is hours of mature fun and humor. Remember that though Larry may seem luckless at the beginning, just help him gain more cash and points and as you accumulate items you unlock places.

While the graphics are dated, they are still decent for this type of game. This is not a game for kids. While there is no shown nudity, there are many adult themes. You must deal with pimps, prostitutes, drug dealers, gamblers, the mob, and an assortment of unsavory characters.

Leisure Suit Larry has seven sequels and has been extremely popular and successful. I know I had a lot of fun when I first played it and still continue to have fun showing it to my friends. The game gets very frustrating at times. You will hit dead ends and have to start where you last saved, which sometimes is a long time back. You can quickly lose all your cash at the casino if you try to play your luck too often. Remember to quit while you are ahead.

All in all Leisure Suit Larry is an addicting role playing game that makes you use your head and experiment with different options. There are many paths to get Larry laid, some are misleading and others are just plain gross. If it seems too easy, it is.
Download full game now: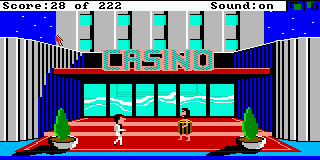 Leisure Suit Larry 1: In the Land of the Lounge Lizards screenshot
People who downloaded this game have also downloaded:
Leisure Suit Larry 5, Leisure Suit Larry 3, Leisure Suit Larry 1 Remake, Leisure Suit Larry 2