Game Downloads
You're located in category:
Battletech 1: The Crescent Hawks' Inception
Review 1:

A role playing game

Great RPG, one of the best ever. You start as Jason, a young battlemech cadet in a training camp. After a while, a citadel gets destroyed while You escape and start Your quest. The game itself is pretty big. It includes mech fights, character interaction, money earning... The game became a cult after some time. Many games were made after this one and many of them were great, but neither had such a success as Battletech. This one may not have a great graphics but it's story line and interesting game play make it one of the best games ever created.

Review 2:

Battletech is one of the very few adventure games taking place in a Sci-fi world that has succeeded in my opinion. The game has a lot of it's own unique features and overall the story is very good - especially the beginning of the game. You play as Jason Youngblood that is at the final stages of his education as a pilot for mechs. Your are training because you want to find your long lost father which you believe has been captured and held hostage by an unknown group of people. One day your home base is attacked and you have to escape from the intruders. You are now on your own persuading your father and the people that hold him as hostage.

The game offers some quite unique features such as a skill system including things such as repairing mechs, controlling them, melee combat and many more. You can also recruit new people to your group (a max of 4 at a time) but beware - just because some of them are nice doesn't mean they will actually help you forever and may actually be one of the contacts of the people that captured your father. The offers several different mechs you can control and of course each of them have their advantages and disadvantages. Several hand weapons are also available when you are walking around like in larger cities where you can have your mechs and also small areas with buildings. Remember not to walk around on the ground outside cities, as you will encounter several people when you walk around and it isn't nice to meet 3 mechs when you are on feet, as you can't always escape them. The actual combat system is turn based an each person/mech get an amount of points that can be used for moving and shooting. When you do critical hits, destroy a mech or any larger event during combat a small animation will run which is a nice addition to the game.

Westwood has managed to develop a game with a great story and while you are playing the game you can really feel the atmosphere in the game and the game only gets better when you start getting more people with you but it's also interesting to just develop your character as the game map is huge and a bit hard to find your way around at first but of course their is a great map feature included as well. You can also interact with all characters you see as well as do arena fighting with your mechs and win money. Battletech is a great adventure game with a few roleplay aspects as well and you won't go wrong if you get this game.
Download full game now: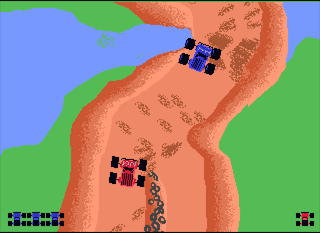 Battletech 1: The Crescent Hawks' Inception screenshot
People who downloaded this game have also downloaded:
Bard's Tale 2, Battle Chess, Bard's Tale 1, BattleTech 2: The Crescent Hawk's Revenge, Populous 2