Game Downloads
You're located in category:
Bard's Tale 2
Review 1:

The Destiny Wand has been shattered into seven pieces and spread over the realm. You, as the destiny knight, must whip up a band of adventurers and track down those pieces and reassemble the wand. To track down all the pieces, you must defeat hordes of monsters and the evil archmage, Lagoth Zanta.

This game is much like Bard's Tale I in layout and sound. But the world here is not a single town with lots of mazes. This game offers mazes (of course), and seven different towns to explore!

A number of races and classes to choose from, plus 5 different mage classes! All in all a good rpg. Definately worth a try.

Review 2:

The sequel to the popular RPG Bard's Tale. Bard's Tale 2 uses the same engine as the original with similar gameplay, but takes place in a much larger game world, featuring several different cities. You can generate new characters or import characters from the previous Bard's Tale.
Download full game now: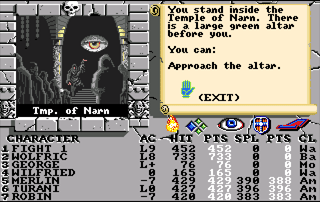 Bard's Tale 2 screenshot
People who downloaded this game have also downloaded:
Bard's Tale 1, Arkanoid 2, Barbarian, Arkanoid, Eye of the Beholder