Game Downloads
You're located in category:
Warp Factor, The
Review 1:

One of the first games made by the infamous SSI, The Warp Factor is a space ship strategy game. You have to select a number of ships to control, a mission to play and then try to accomplish it. The game itself reminds me about Star Trek a bit, with similar ship designs and various other details.

The game is made in basic so don't expect spectacular graphics and sound. Actually, there aren't many of them at all. The graphics is mainly text and few lines while sound is limited to speaker's beeping. Still, the game can be very addictive and fun to play.

Review 2:

The Warp Factor is a distant cousin of SSI's Apple II classic Cosmic Balance . Best described as individual ship-to-ship battle in space, with simple yet addictive gameplay. Warp Factor is basically a crude adaptation of the Star Fleet Battles miniature rules. With lack of official Star Trek license, the names were slightly changed and released any way. This game is mainly about starship tactical combat, making it a distant ancestor of Interplay's Star Fleet Command years later. Aside from many commands such as ship formations, etc., the game was also among the first that let you design your own ships. Definitely an early starship command classic that would influence generations of successors.
Download full game now: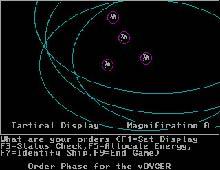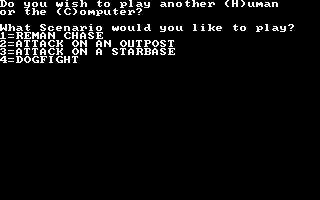 Warp Factor, The screenshots
People who downloaded this game have also downloaded:
X-COM: Apocalypse, Wizard's Quest, Warhammer Epic 40000: Final Liberation, Warhammer: Shadow of the Horned Rat, Warhammer: Dark Omen