Game Downloads
You're located in category:
Vikings: Fields of Conquest
As a re-release of Kingdoms of England, released only for the Amiga, Vikings: Fields of Conquest improves upon the Amiga version with better AI and enhancements for the PC market. The core of the game remains an interesting abstract game of economics and power politics in the Middle Ages, in which solid economic, diplomacy, and military models all coalesce into a challenging whole.

The emphasis of the game is clearly on playability over realism, as students of history will be quick to observe various quirks and unrealistic features in the game. The game might also prove too "dry" for some, as most of the events are resolved with number-crunching of statistics behind the scenes. Overall, an excellent game for anyone interested in a challenging, boardgame-style turn-based game, but probably not for novices to the genre or wargamers who crave realism and historical accuracy. On a side note, its sequel Vikings II offers little more than prettier graphics, and before that, Kingdoms of Germany is essentially the same game as this one, only with a less interesting geography. The game system was also planned to accommodate future expansions, but unfortunately it failed to attract enough public attention to warrant their releases.
Download full game now: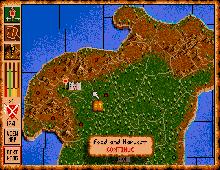 Vikings: Fields of Conquest screenshot
People who downloaded this game have also downloaded:
Vikings: The Strategy of Ultimate Conquest, Walls of Rome, UFO: Enemy Unknown Collector's Edition, Settlers II Gold Edition, The, Super Dune 2