Game Downloads
You're located in category:
Pref Club
Pref Club is a decent card game that is notable for introducing something that is missing from most card/casino games: club atmosphere. Instead of putting you in a tournament environment as in QQP's underrated Bridge Olympiad, or the casino environment Capstone implemented well in their games, Pref Club casts the game of bridge in the context of an exclusive card-playing club. After identifying yourself and your tastes, you are welcome to the club by a stodgy butler. The game itself is straightforward: choose two other club members to be your playing partners for the day. I don't know the English name of the card game in Pref Club, but it is similar to gin rummy except much simpler.

The best thing about Pref Club is probably the range of computer opponents. The computer-controlled club members range in their competence from utter fools to card sharks, so you would be well advised to listen to the butler's introduction to each player. Winnings are saved on your account, and you will get kicked out of the club if you lose all your money. Graphics are pleasant - in fact, much better and more interesting than your average card game, thanks to the caricature style of both your opponents and the card decks. In terms of longevity, Pref Club is entertaining enough to keep players interested, although it lacks the extensive tournament or career mode of Bridge Olympiad. Recommended for beginners and intermediate card players who want to sharpen their skills.
Download full game now: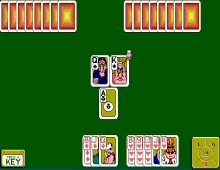 Pref Club screenshot
People who downloaded this game have also downloaded:
Survival, Spot, POWER The Game, Renegade: Legion Interceptor, Tenshindo (a.k.a. Yan Yan 2)