Game Downloads
You're located in category:
Operation Europe
Review 1:

This is one of those strategies that requires a lot of patience and I had none. I never liked this type of war games but I know that there are many that just love them. So this one is for all of You strategy fanatics. Take control of either Axis or Allied forces in several scenarios and defeat Your opponent.

Review 2:

KOEI's first foray into the wargame arena is a worthy attempt, but ultimately unrewarding. The game engine which has proven effective for KOEI's strategy games is woefully inadequate to handle the nuances of World War II combat, where combined arms plays a key role. The undistinctive units, puzzling AI, and confusing interface only add insult to the injury. The only reason it's here is for the sake of completing the collection of old KOEI games, and for me to warn you about how bad it is.
Download full game now: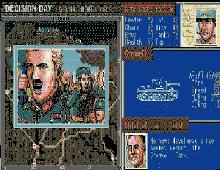 Operation Europe screenshot
People who downloaded this game have also downloaded:
P.T.O. II, Pacific General, Romance of the three Kingdoms 3, Iron Cross, Panzer General for Windows 95