Game Downloads
You're located in category:
Laser Squad
Review 1:

Long before any of the X-Com games was made, Krisalis created Laser squad - turn based, squad strategy game (it was made for C-64 and Spectrum computers, and later for PCs). Equip Your soldiers with guns, ammo, explosives, medical kits... and complete the mission. There are many things You can do with Your soldiers such as ducking, aim shots, auto shots, planting explosives and many, many other things. What I really like is that once You kill an enemy You can search the body and get his equipment, but if You kill him with explosives or rocket launcher it's impossible to search him. These little things make the game more realistic and fun to play.

Review 2:

A relatively unnoticed game at the time of its release that suddenly became heavily sought after after the phenomenal success of its successor X-COM, Julian Gollop demonstrated his knack for deep and addictive strategy games in this early PC release. Control a squad of futuristic soldiers in 5 large missions. X-COM veterans will be right at home with this one, as it is obvious how the gameplay would later evolve into a classic that rocketed Julian and his company Mythos to fame and fortune.

Curiously enough, Laser Squad also features a great 2-player option that is missing in X-COM games-- co-operating with your friend to win a scenario is much more fun than letting the AI handle it.
Download full game now: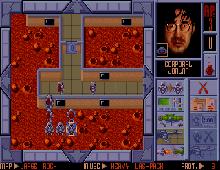 Laser Squad screenshot
People who downloaded this game have also downloaded:
Jagged Alliance, UFO: Enemy Unknown Collector's Edition, X-COM: Apocalypse, Lords of The Realm 2, Sabre Team