Game Downloads
You're located in category:
Journey to The Center of The Earth
One of the most obscure strategy games ever made, Journey to The Center of The Earth is an interesting but frustratingly difficult adventure/strategy/action hybrid based on the celebrated novel of the same name by Jules Vernes. As in the book, the game's plot is an intriguing blend of Victorian-era science and zeal for adventure. Upon hearing news of Prof. Lindenbrok' succesful trek to the center of the Earth, you decided to join his team on their second journey into the fastastic realm. You can choose your alter ego as one out of four eminent scientists in the 19th century (e.g. Rutherford and Rossi). Each scientist has his own characteristics, but they only affect how you appear in the game, and the starting statistics.

The game plays like a survival adventure than Chip's usual blend of strategy and action (as evident in their masterpiece Joan of Arc: The Siege and The Sword). With a strong emphasis on survival, the game has more in common with Silmarils' Robinson's Requiem than a strategy game. You must check the major statistics of your character, e.g. food, water, and vitality, at all times to make sure they don't fall to the danger zone. In contrast to the strong strategy angle of Joan Of Arc and Pharaoh, Chip's better-known games, strategy in JTCE merely consists of choosing which direction to go next. Some action sequences border on the ridiculous: to drink water, for example, you have to run around in a large cavern, collecting droplets that fall from above while avoiding falling rocks. When you are injured, you must identify and use various tools in the first-aid kit -- this is one of the more enjoyable aspects of the game.

Despite these shortcomings, Jules Vernes' vision of what the "center" of the Earth looks like is a compelling one that will keep die-hard gamers and fans of his novels struggle through the game. The plot moves briskly as you cross new areas, and the writing is above average. It's unfortunate that the game doesn't focus more on strategy aspects. As it stands, JTCE is a decent but difficult action/exploration game with some pretenses of strategy. Only action gamers will likely get through this one.
Download full game now: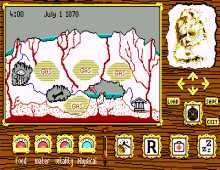 Journey to The Center of The Earth screenshot
People who downloaded this game have also downloaded:
Master of Magic, Lords of Magic: Special Edition, Great Battles: Collector's Edition, The, Jurassic War, Kingmaker