Game Downloads
You're located in category:
Decision in the Desert
Conflict in Vietnam, Crusade in Europe, and Decision in The Desert are three outstanding wargames, collectively released as "Command Series," remain to this day some of the most well-balanced and fun wargames ever made. Designed by the powerhouse duo of Sid Meier and Ed Bever, all three games feature innovative real-time play, interesting realistic and hypothetical scenarios, and above all-- excellent computer AI that uses historically accurate strategies, and fun head-to-head mode. Covering the most famous wars in history from World War 2 to Vietnam, these classics belong in every wargamer's collection.

From MobyGames rap sheet: Decision in the Desert was the second installment in the "Command Series" of tactical wargames co-designed by Sid Meier and Ed Bever and published by MicroProse in the mid 1980s. The game covers the North African theater during World War II. The design is essentially the same as in the first Command game, Crusade in Europe. Five different scenarios with multiple variants can be played. This, along with multiple levels of difficulty, gives the game significant replay value. Battles occur in real-time, though orders may be issued while the game is paused.
Download full game now: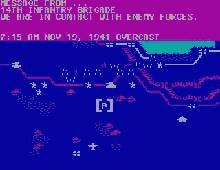 Decision in the Desert screenshot
People who downloaded this game have also downloaded:
Crusade in Europe, Conflict in Vietnam, Rommel: Battle for North Africa, Great Battles: Collector's Edition, The, Gary Grigsby's War in Russia