Game Downloads
You're located in category:
Dark Tower
Dark Tower is an excellent Java remake of a classic 1981 board game from Milton Bradley of the same name. You should definitely hunt down the original board game if you love innovative toys, because it has many interesting "gimmicks," including neat 3D plastic landmarks and an electronic, touchpad-equipped plastic tower that arbitrates the results of battles, the distribution of artifacts, and other game events. It can display small images, numeric readouts, and even plays groovy sound effects.

This freeware computer version lacks the "coolness" of the original board game, but it is the next best thing especially if you can't round up enough people to play the board game with. As in the original board game, 2-4 players race the others around the circular board in a quest: each player tries to locate a key in each of the foreign countries, then return to his or her own country and proceed to the inner part of the board and attack the Tower itself. The players can apply Curses and place obstacles to slow each other down, but they never enter combat against each other. All battles are fought against the monstrous "Brigands" which are computer-controlled.

Dark Tower is a fun, action-packed fantasy strategy game that has inspired many board games. If you enjoy the likes of Avalon Hill's Wizard's Quest or HeroQuest, you will enjoy this early classic as well. The computer version is very faithful to the original, and offers competent computer AI so that you can play solo. Recommended to every fan of fantasy strategy games.
Download full game now: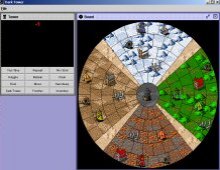 Dark Tower screenshot
People who downloaded this game have also downloaded:
Magic: The Gathering, Lords of Magic: Special Edition, Dark Wizard, Wizard's Quest, Celtic Tales: Balor of Evil Eye