Game Downloads
You're located in category:
Celtic Tales: Balor of Evil Eye
Balor of the Evil Eye is an excellent strategy sleeper that never received sufficient publicity because KOEI abandoned the PC market at the time for console products. Which is very unfortunate, because Balor of the Evil Eye is an attractive and thoroughly original approach to turn-based fantasy gaming. The game is set in ancient Ireland, where you rule one of 18 small tribes. Your goal is to become High Ruler and lead a united people against evil Balor. You can employ military and diplomatic tactics toward your goal, seeking to gain allies while you develop the power and size of your tribe. As your renown spreads, champions will flock to your banner. They can cast spells, create magical items, improve buildings, and perform a variety of other important tasks.

Fans of Koei's earlier releases (e.g. Romance of the Three Kingdoms (RtK) series, Nobunaga's Ambition) will be happy to know that Balor features a sophisticated AI that is much better and more "human-like" than KOEI's previous efforts (and in particular the disappointing RtK 4), and a strong personnel management system that has been the hallmark of KOEI's games. Neutral and enemy players act rationally and in accord with their predesigned personalities. Friendly champions may even disregard your commands in certain situations. The game's isometric landscape (previously used only in battle mode in KOEI's earlier games) is beautifully designed, and its menus are well chosen. Complex like all KOEI games, Balor repays the investment of time with plenty of configuration options and surprising random events. Unique subject matter, deep gameplay, and high replayability makes Balor a much-overlooked old game, and arguably KOEI's last great strategy game for the PC.
Download full game now: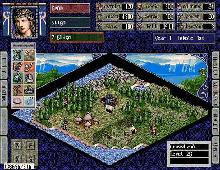 Celtic Tales: Balor of Evil Eye screenshot
People who downloaded this game have also downloaded:
Lords of Magic: Special Edition, Magic: The Gathering, Civil War Generals 2, Cavewars