Game Downloads
You're located in category:
Corporate Pursuit
Corporate Pursuit is an average business simulation that tries to simulate the IT industry, but does not quite succeed due to dubious economic/pricing engine, and balan gameplay. Your role is Marketing Manager a high-tech company, responsible for the the entire product life cycle, from production, to marketing and advertising.

The game is played with a lot of static, spreadsheet-style screens - much like Impressions' early titles (e.g. Detroit). That in itself is not a bad thing; what makes the game boring is that nothing much seems to happen in the game. Your opponents' actions are more or less transparent, and there are few randomt events to make the game more exciting and difficult. I noticed some undercutting behavior of computer players in the game, but other than that, they pose no real threat to your company. Overall, Corporate Pursuit is a game that is not bad, but pales in comparison to classics in the genre such as Capitalism Plus and Enterpreneur. Worth a look only if you collect this kind of games.
Download full game now: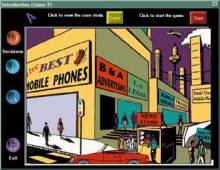 Corporate Pursuit screenshot
People who downloaded this game have also downloaded:
Monopoly Tycoon, Exploration (a.k.a. Voyages of Discovery), Yoot Tower, Civil War Generals 2, Machiavelli The Prince (a.k.a. Merchant Prince)