Game Downloads
You're located in category:
Air Force Commander
Veteran wargamer M. Evan Brooks said it all in his synopsis of the game: "Multi-scenario options for strategic air supremacy in the Middle East. The scenarios themselves were detailed and somewhat esoteric, e.g. Bahrain vs. Qatar (actually not that unrealistic given the political realities). But the speed of the game could not be slowed down (eventually a patch was distributed over electronic bulletin boards). Overall, an interesting effort with little potential for enduring play value."

Impressions would later improve the engine somewhat and use it for Global Domination and later When Two Worlds War. Still, weak AI and cumbersome user interface that characterize most of Impressions' early efforts make this a marginal old game at best. Anyone who wants to play a truly great air force wargame should try Big Time's Flight Commander 2 instead.
Download full game now: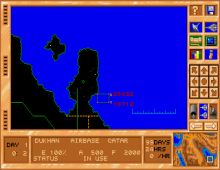 Air Force Commander screenshot
People who downloaded this game have also downloaded:
101 Airborne: The Airborne Invasion of Normandy, Allied General, Constructor, B-1 Nuclear Bomber, Armada 2525: Deluxe Edition