Game Downloads
You're located in category:
Yie Ar Kung-Fu
One of the most loved arcade games of all time, Yie Ar Kung-Fu is a pioneer in the one-on-one fighting genre, a timeless classic that offers many innovative features that became standard. The game casts you as Oolong, an aspiring martial artists who wants to become a Grandmaster in the ancient skills in honour of his father, a Kung-Fu master before him. You have must defeat 9 different opponents with 16 attack moves -- an amazing number even by today's standards. All the attacks can be performed with the joystick or nine keys, in a similar fashion to International Karate. Some of the moves, such as the roundhouse, flying kick and leg sweep, will be familiar to those who already have a martial arts program gracing their software collection. Others, like flying and leaping punches, the stride punch and ground kick are totally new. Points are awarded for well executed moves and a bonus life is given if you manage to reach 20,000 points.

When fighting you have the choice of three different modes: walking mode, punching mode, and kicking mode. You start the game in walking mode and when you're near enough to your opponent you have the option of being able to either kick or use your fists. At the start of the game, both you and your opponent are given a certain amount of energy which is shown on-screen in the form of a bar. If you get hit, your bar diminishes slightly. To defeat your opponent you have to make his or her energy bar reach zero before yours does. If you manage to do that then you are promoted to the next, more difficult opponent with your energy level restored to maximum; if you don't win, then you lose one of your five lives and have to tackle the same opponent again.

Each combatant has a unique way of fighting and you need to modify your fighting strategy in order to win. Some of the opponents carry weapons - poles, throwing stars, shields, swords, sticks and fans which have to be jumped over or ducked under, while avoiding the usual melee of punches and kicks. If you manage to beat the final opponent Oolong becomes a Grand Master, and has to challenge the same set of opponents all over again - only this time they're meaner and faster. Overal, Yie Ar Kung-Fu is an incredibly addictive fighting classic that is truly timeless. I like the game much more than Way of The Exploding Fist due to the greater number of moves and fluid animations.

Note: the version for download here is the DOS executable compiled from ROM of MSX version. Too bad the game was never released for the PC.
Download full game now: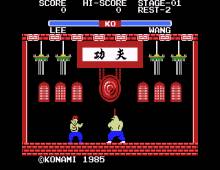 Yie Ar Kung-Fu screenshot
People who downloaded this game have also downloaded:
Yie Ar Kung-Fu II, Lemmings 2: The Tribes, Operation Wolf, Karateka, Bubble Bobble