Game Downloads
You're located in category:
World League Basketball
World League Basketball is an excellent, comprehensive, and vastly overlooked basketball game from Mindscape. The game has many features that set it apart from most other basketball titles. For starters, WLB lets you play international teams rather than the NBA or any other league. Another excellent innovation is the ability to coach your team - making it more of a simulation than an arcade-style sport game. You can change player attributes, choose from 22 available offensive and defensive plays, call time outs and substitutions, and review numerous statistics that the game records, from each player's statistics to on-the-court data.

On the court where it counts, WLB is excellent. The action, as it should be, is fast and furious, and ball control is both intuitive and customizable. You can even speed up the players by pressing "turbo" button, although this must be used sparingly because they will tire more quickly. The 3D graphics look great - not as good as SEGA's NBA Action '98 or later games, but more than adequate for you to see the action. Four difficulty levels offer the full spectrum of challenge for anyone from a beginner to a die-hard basketball fan. If you are looking for a basketball game that focuses on non-NBA action and offers more coaching options that a typical game, this old game from Mindscape is the ticket.
Download full game now: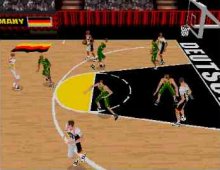 World League Basketball screenshot
People who downloaded this game have also downloaded:
World Tour Tennis, TV Sports: Basketball, WWF in Your House, Tie Break Tennis '98, Sport of Kings (a.k.a. Omni-play Horse Racing)