Game Downloads
You're located in category:
Unnecessary Roughness '96
Unnecessary Roughness '96 is the final - and definitely best - entry in Accolade's underrated series of American football games that began in 1993. From game description at MobyGames: "Updates in this version attempt to correct the "arcadish" feel the previous had with a much bigger emphasis on team management and coaching. You can buy entire teams, make any trades, set salary caps, manage rosters and injuries, etc. The statistical side of the game is spruced up, with more realistic scores, and an additional play-designer added to the editable features, which allows you to store up to 1,300 plays, to which you can even add audible calls. On the gameplay side of things new features include an automatic pass reception which allows you to basically concentrate on using the quarterback. Also available is two player cooperative or vs gameplay modes, and new, clearer graphics, animations and sounds." CD Mag wrote a convincing review that explains why even detractors of the first few games in this series should look at this final incarnation:

"Football fans were suitably unimpressed with Accolade's previous football game, Unnecessary Roughness. It was lacking in so many areas many gamers would probably be inclined to write off the latest version as well, Unnecessary Roughness '96, but to do so would be a mistake. This approach is finally providing an interesting alternative to Sierra's Front Page Sports Football series. Nevertheless, players focused on just simulating and coaching can still find better games out there (many text-based, some, like Pro League Football which also include serviceable graphics).

That's not to say that there's no simulation in Unnecessary Roughness '96. Simulated seasons produce respectable results, especially when compared to the comical totals of the previous version. There's still too much offense (2500 yard rushers, quarterbacks with 50+ touchdown passes), but the overall results are as accurate as the competition.

The game is vastly superior to FPS Football in its interface and play editor. The interface is fairly logical, though it's extremely weak in its presentation of season leaders and their statistics. You can edit all of the stats (all the way down to the team logos) and customize leagues, but the game doesn't allow you to do enough. When you create a new league, you can only determine what division the teams play in - you must fill all 30 spots and cannot choose anything but a complete 16 game season.

Where the system shows its lack of polish is during the actual game. The animation is jumpy and choppy, while the on-field action doesn't really resemble real football (a tackle from behind can cause players to fly in the wrong direction). The announcing and referee-calling (by Al Michaels and Jerry Markbreit, respectively) is uninspired (it sounds as if Markbreit literally phoned in his voice-over; the amount of reverb is comical, and crowd noise is completely absent). Like most of the games out there, you can choose to view the game from every conceivable angle (including first-person), and like most of the games out there the feature is fairly useless. To say that this 96 model is an improvement over the previous one is an understatement. The enormous gains this version has made points to a rather rosy future for the design, whereas Sierra seems to be spinning its wheels with its football line. They'd better watch out - Accolade may tackle them from behind, recover the ball, and return it for a touchdown. Definitely a battle to watch in 1996."
Download full game now: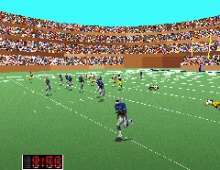 Unnecessary Roughness '96 screenshot
People who downloaded this game have also downloaded:
Front Page Sports: Football Pro '95, Front Page Sports: Football, John Madden Football II, Hardball V Enhanced (a.k.a. Hardball 5 Enhanced), Front Page Sports Baseball Pro