Game Downloads
You're located in category:
Front Page Sports: Football
One of the best sports games ever made, period, Front Page Sports Football is the first game in Dynamix' long-running and popular Front Page Sports games series. With its stunning graphics, realistic replays, and incredible, intriguing season and career modes, Front Page Sports Football unified the pigskin simulation title immediately upon its release in 1993. A football sim that looked great while still retaining a wealth of statistical depth and realism? Incredible. A career mode that let you coach and manage a team season after season, complete with a college draft, retiring players, and training camps? Unbelievable! Patrick Cook, designer of Cinemaware's underrated TV Sports Football, pulled out a masterpiece that few football games have rivalled since.

Although action is an option, FPSF's cerebral aspects are what sets it apart. One heck of an AI was built into the game engine, which meant calling "halfback toss left" seven times in a row wasn't (and still isn't) likely to work. And the career and season replay modes forced gamers into thinking in a way they never had before. Graphically, the Front Page Sports engine was unparalleled, particularly in 1993. Multiple camera angles allowed players to view the action from every possible position, even way up in the sky. And the player animations were so detailed, we believed we were seeing things that couldn't possibly be happening (I still swear I once saw my defensive lineman deliberately trip the ball carrier).

When it comes to football sims, Front Page Sports Football is pretty much all there is. The scary thing is, with each reincarnation (there have been four now), this game just keeps getting better and better. If you are an American football fan, this is simply a must-have.
Download full game now: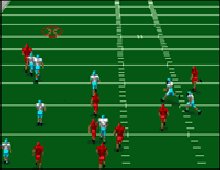 Front Page Sports: Football screenshot
People who downloaded this game have also downloaded:
Front Page Sports: Football Pro '95, Front Page Sports Baseball Pro, Earl Weaver Baseball 2, Championship Manager 2, All-American College Football