Game Downloads
You're located in category:
UEFA Champions League 1998/99
Second in the UEFA Champions League line, UEFA Champions League 1998/99 is the second soccer game licensed by UEFA. It's essentially 1996/97 version, improved with new graphics and some coaching options. The game features all 16 teams in the tournament, as well as a bonus of 32 international teams to play in international club competitions. You can also use the team editor to replace any teams you don't like with your own choices. Thanks to official license from UEFA, there is a lot of authentic details, including players' photos and real stadiums. You can view the action from anywhere in the stadium, and the graphics is up to par with contemporary games, although the players seem a bit too small.

Players in UCL move realistically and can perform a wide range of actions I don't usually see in a computer soccer game. These include arguing with the ref, "chesting" the ball, and blowing kisses to the crowd. You can view the action from anywhere in the stadium, and computer players have decent intelligence: they don't wait for the ball to come to them, but will pro-actively run to empty spaces and call for a pass.

On the coaching side, UCL is lacking compared to similar games (e.g. EA's FIFA International Soccer and Actua Soccer 3). But since it is primarily an action-oriented game, this is not a major disadvantage. UCL also offers good multiplayer support: up to 16 human players can take part in the Cup, with up to 4 people playing simultaneously. All in all, UCL is well worth the time for any soccer fan, even if its coaching element is sub-standard. Highly recommended.
Download full game now: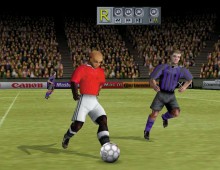 UEFA Champions League 1998/99 screenshot
People who downloaded this game have also downloaded:
Total Soccer 2000, Ultimate Soccer Manager 98-99, FIFA International Soccer, Championship Manager 2, UEFA Champions League 1996_97