Game Downloads
You're located in category:
Total Soccer
Total Soccer is a fun Sensible Soccer-style football game that is quite a lot of fun, even if it doesn't introduce any new concepts that Sensible Soccer fans haven't seen before.

One of the best things about Total Soccer is multiple resolutions. You can play the game in 640x480, 800x600, 1024x768, and even higher resolutions. You can zoom in or out on the pitch as close to the action or as far away as you want. As for the action itself, fans of Sensible Soccer will be delighted to hear that Total Soccer recreates the feel very accurately - although not all the sense of humor remains intact. Unlike most other (unrealistic) soccer games, the ball in Total Soccer does not stay "glued" to your feet; dribbling, like in Sensible Soccer, is therefore crucial to success. The tough computer opponent doesn't make things easier for you, either, unless you are playing Manchester United. You can choose your team from hundreds of European teams, and compete in various cups and tournaments. With very smooth graphics, superb control scheme, and a very fast pace, Total Soccer will entertain everyone who loves Sensible Soccer. It is too bad that a lot of manegerial options in Sensible Soccer (for example, the ability to buy/sell players) are not implemented in this game, but on the pitch, the action is just as much fun as you remember. The game also seems to be lacking the sense of humor that makes Sensible Soccer such a charming classic (I miss the cute victory dance when someone scores a goal, for example). But once you see the little players dive for a header or pull a nice curving free kick, you will be having a great time with this excellent game.
Download full game now: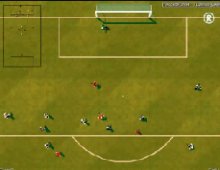 Total Soccer screenshot
People who downloaded this game have also downloaded:
Total Soccer 2000, Sensible Soccer '98, Sensible World of Soccer: European Championship Edition, Kick Off 2, Sensible World of Soccer