Game Downloads
You're located in category:
Kick Off 2
Review 1:

I think I must have played Kick Off 2 5 hours a day for several months when I played the game the most. I was simply addicted because of how different the game was than any other football games. Not only did it offer a well detailed fast paces football game but it also offered unique features such as after touch, a realistic way of running with the ball (unlike other football games where the ball was glued to the player's foot).

In Kick Off 2 you can play both friendly matches, create your own league or cup and finally play the World Cup 1990 with all the correct teams and also most of the players are correct such as Klinnsman, Matthaus, Schillachi and many more. The game is of course built up on the World Cup and the tournament is very well balanced as you can start learning the game by playing as Italy or Germany and when you are really good you can try and see if you can win the tournament with a team like Austria or U.A.E.

You can decide how long the matches should be like from just a few minutes per half or full time which means each half being 45 minutes. It's also possible to select what kind of pitch to play like ice, Wembley, bumpy and a few more and finally what kind of referee that should be in the game. All of the features can of course be selected as random so it's different for each match because just as an example there is one referee that gives a card to player each time a free kick is made. This can pretty quick end up with having only a few players left on your team at the end of the match.

Kick Off 2 is a well done game offering a bunch of unique features (being unique at that time) and you won't find a better football game from the early 90's that is so well done, not even the popular Sensible Soccer. The graphics are as detailed as needed and the developers haven't used more time on the sound as needed. A recommended game for all football fans.

Review 2:

Fast, furious, involving - GREAT! That's Kick Off 2... on the Amiga. On the PC it's somewhat fast... and well... that's basically it. Everything that made this game the best football game on the Amiga was left out on the PC. On first sight it seems to be there, but then the handling is just not quite the same... The slight border was crossed and now you will just run past the ball if you're one pixel too far away, however you can count on knocking the ball away when you just wanted to run around it. You can pretty much forget about the kind of handling the Kick Off series introduced back in its Amiga days... it was perfected later on in the Sensible Soccer series - however pretty messed up here in its PC version. Also the AI is pretty stupid. On the one hand you have your own teammates madly kicking the ball back into the direction of your own goal as well as spinning around with no obvious reason. Fortunately the players of the players in the computer's team do the same kind of stuff as well, so that makes up for it.

However... I did not really find the game very playable, which is a shame as there's everything there you need in a good football sim. League, Tournament, single matches etc. - if they would just have cared a little more about the handling and probably invested a thought or two into the graphics this game could have just been as good as it was on the Amiga. *sigh* And it was one of my favorites there - best played with a friend. Amiga version is also available at our site.

Review 3:

One of the very best (if not THE best) soccer games ever made, Dino Dini's seminal classic Kick Off 2 was a huge success on the Atari ST and Amiga, although, as usual, it attracted little attention of PC gamers due to poor marketing and limited distribution. I'll let this wonderful review of the game for an Amiga magazine speak for itself:

"Undoubtedly the best game ever created. This seminal footy sim was unleashed on an unsuspecting public back in the late summer of 1990, as the sequel to the original Kick Off from a year earlier. Despite being almost 8 years old, incredibly this game is still available in the high street - try your local branch of Game.

Hailed as a classic from day one, reviewers made comments such as "sheer brilliance", "miss it and you'll hate yourself for the rest of your life" and "THE best game ever produced."

Even the arrival of the highly-praised Sensible Soccer could not dislodge KO2 from its rightful place at the top of the footballing tree, and modern games such as ISS Pro and Actua Soccer pale into insignificance upon comparison. Unlike today's soccer simulations, Kick Off doesn't rely on flashy graphics or realistic team data to impress. 100% gameplay is the order of the day here, and it takes many hours of practice to become a competent player.

Newcomers to the experience are often put off by the speed. Although hard to control at first, perseverance pays off, and it gives a sense of real achievement when the player is able to pull off breathtaking moves at a seemingly-impossible pace. Reaction times are paramount, and concentration must be maintained at all times to become a succesful player. The top-down viewpoint and utilitarian visuals are perfectly adequate and do not distract the player from the task at hand - the game has been designed to be played, not to be looked at, and it shows. The simplistic appearance hides an incredibly versatile game, with an almost limitless tactical depth. A wide range of shots - including aftertouch - are available, and fully accessible with a one-button joystick (another feature that modern games could learn from).

Of course, no game is perfect, and KO2 has a number of bugs that occasionally manifest themselves in dramatic fashion. However, they emphasise the character of the game, and it's endearingly quirky nature. Just like real football, you never quite know what is going to happen next.

Despite the spartan graphics and sound effects, this game is a shining example of quality software. It retains a cult following to this day and has yet to be bettered, or even equalled. My friends and I spent many, many happy hours playing Kick Off 2, and it still gets a regular outing. Simply the most competitive, most demanding and most rewarding 2 player game ever (immaculately) conceived." Highly recommended!

Review 4:

Kick Off 2 retains the pace and accuracy of the universally acclaimed Kick Off. A soccer simulation with a full size multi directional scrolling pitch and the players, markings, goals etc in correct proportions. Both teams play the game strictly according to tactics. Players move into position to receive passes and gain possession. The ball, as in the real game, travels ahead of the player thus making a tackle is a matter of skill rather than of chance.
Download full game now: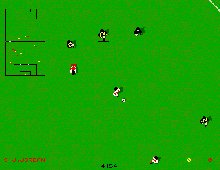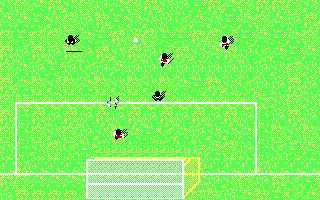 Kick Off 2 screenshots
People who downloaded this game have also downloaded:
Kick Off 3: European Challenge, Sensible World of Soccer 96_97, Sensible World of Soccer, Speedball 2, Sensible Soccer '98