Game Downloads
You're located in category:
Kick Off 3: European Challenge
Review 1:

The legendary Kick Off series goes on! The first KO game that was NOT made by Dino Dini, the legendary creator of the most famous football game ever made for Amiga, is still great, maybe even the best football game in its time! The old, legendary top-down view has been switched to isometric, giving the player a larger visible area and maing some great moves available. There are many modes in which the game can be played so I highly recommend you to get it!

Note: You must have a joystick to play Kick Off 3!

Review 2:

Anco Software was well known for especially Kick Off 2 when they decided to release Kick Off 3. Unlike Kick Off 1 and 2 the game view has changed so it's similar to Sensible Soccer and similar games from that period. This was mainly caused by that the original designer of the first two games in the series, Dino Dini, left Anco Software.

Not only the game view has changed in the game. There are also several more features in the game and the graphics are a bit more detailed not to mention the greatly improved menu interface. Still - Kick Off 3 is too much "Anco" as there are Anco league, Anco cup and even an Anco team. I have never been much of a fan with football games featuring fiction players and/or teams. Still there is a great selection of different tournaments and teams to choose from and you can also setup the game to include offside and all the other official football rules.

I wouldn't say that Kick Off 3 is as good as the first two games in the series but it's close and if you are a football fan this game is a must as it offers many new things compared to other football games from this period.

Review 3:

A great sequel to Dino Dini's groundbreaking Kick Off 2 (although ironically NOT designed by him, since Dino Dini left Anco due to internal dispute, and went on to produce Goal! for Virgin). Kick Off 3 (also released as European Challenge) upgrades the graphics from Sensible Soccer-style overhead perspective to attractive isometric view, and adds a wide variety in gameplay and competition choices. Each of the 32 teams in the game has a distinct style of play, ensuring that no two games are alike. Each team also has "key players," such as Liberos and Wingers, who play a pivotal role in how that team plays. Naturally, the quality of these key players varies from team to team. The neat new feature is "team talk," which adds a touch of adventure, and can influence the game substantially.

Besides the international friendly mode, there are three competitions: World cup, Anco League, and Anco cup. There is also a challenge against an all-star team Anco United to see how good you really are.

In another novelty that more soccer games should emulate, Kick Off 3 offers 2 styles of play: Arcade and Simulation. Simulation mode obeys all the rules of soccer, e.g. offside, back pass etc. In the Arcade mode, you can switch of one or all of these options to focus purely on reflexes. There is also a practice mode, which provides the opportunity to learn and perfect controls. There is even an overall assessment of you as a player-- the game tracks and records your performance. Last but not least, Kick Off 3 offers multiplayer options, and the ability to pause the match at any time to choose Replay, Match Facts, Team Talk, or effect Substitution.

With a great number of options, improved graphics and controls, and the same addictive gameplay as Kick Off 2, Dino Dini pulled off another masterpiece with Kick Off 3. Whether you are an arcade-oriented fan, or diehard armchair manager, you'll have plenty to like in Kick Off 3.
Download full game now: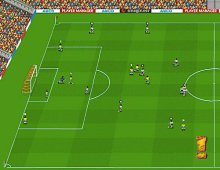 Kick Off 3: European Challenge screenshot
People who downloaded this game have also downloaded:
Kick Off 2, Sensible World of Soccer, Sensible World of Soccer 96_97, Sensible Soccer '98, Sensible World of Soccer: European Championship Edition