Game Downloads
You're located in category:
Tactical Manager
Tactical Manager is a decent football simulation game from Talking Birds, who would later release the sequel Tactical Manager 2 into public domain. The game is long on the number of clubs and statistics, but a bit short on actual match representation.

The beginning of Tactical Manager is promising enough. You can choose from a staggering array (thousands!) of teams and players from around the world. Clearly developed to simulate results of matches and league plays, Tactical Manager is a game best marveled from the sidelines, as it does not give you as many hands-on options (where to build new buildings in the stadiums, for instance) as games like Ultimate Soccer Manager. Realms and realms of statistics and very detailed customization options are the high points, but the actual match presentation is uninspired and unimpressive. So if you enjoy Championship Manager but want even more numbers to crunch, Tactical Manager fits the bill. If you would rather get involved in the day-to-day management of your club, though, this is not the game for you. And in any case, the game has been far superceded by now-freeware Tactical Manager 2 (also on this site) and its sequel Tactical Manager 3.
Download full game now: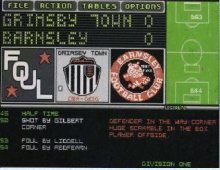 Tactical Manager screenshot
People who downloaded this game have also downloaded:
Ultimate Soccer Manager 98-99, Tactical Manager 2, Manager, The, Championship Manager 2, Championship Manager '93 w_ 1994 data disk