Game Downloads
You're located in category:
Slicks & Slide
Review 1:

This game rocks hard, and I love it. You can't beat the whole cute little racing game genre of games. I am totally fond of games like this, Race and also the superkewl Lego Racers games.

Slicks 'n' Slides offers a variety of vehicles you can race from motorbikes to tanks, and flying saucers to cars. There are heaps of them, and they are all lots of fun. Personally I preferred the motorbikes ;). You zoom around the track, of course you can configure how many laps you want to do, whether you want a one-off race and specify the track, or go through all the tracks in a championship fashion. The tracks are all very cool, some with jumps, puddles, sand and oil spills etc. There are over 20 tracks for you to have a hoon on. You can leave behind little skid marks if you want that option! It's just so cute and there are so many options.

It takes a definite knack to mastering the ability to turn the corners without losing control. The computer players are pretty good, and when you play your friends, well, they are gonna pretty good too. It's quite easy to pick up this game. So you get the hang of turning the corners skidding out and planting foot (or should we say key). Of course the flying saucer is not the best for turning the corners, as it floats :D. Another good corner turning strategy is to bump off other racers on the track. But when you have a crossing over track, the fact you can hit other racers can end up with massive collisions and everyone gets slowed down. The collision option can be turned off (see, another 'option'! What such a great game!).

The multiplayer part of this game is what made it for me. Sure enough I played it a billion times on my own, but to have up to four people all crammed on one keyboard battling it out was just a riot! I was on the keys by the Q key, one cousin down by the <> keys and another on the number pad. Hehe, what a recipe for a bitch fight. Man, the dirty tricks we would play to win. Only so many chairs can fit in front of the PC, so we had to all fit on two chairs, and it would result in the middle cousin winning, and he proceeded to push you and your sister down onto the ground etc! Lots of teeth and elbows ;)

The graphics are excellent! The cute little colourful racers, the great little tracks. You even had crowds in spectator stands to cheer you on. The little puddles as you zoomed through them! The graphics were cartoon stylish and totally excellent.

The sound was cool too, little sound effects you would expect from a racing car game. The little engines go 'broooom broom' etc :D I love this game; it's in my top 10 of all time great games.

Review 2:

Little race game where you play a car with a length of three pixels. You can choose different tracks on which you ride with incredible speed.
Download full game now: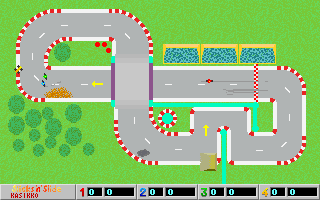 Slicks & Slide screenshot
People who downloaded this game have also downloaded:
Caveman Ugh-lympics, Games, The: Summer Challenge, Sport of Kings (a.k.a. Omni-play Horse Racing), Games, The: Winter Challenge, Hole-In-One Miniature Golf