Game Downloads
You're located in category:
Orel Hershiser's Strike Zone
A conversion of the coin-up game of the same name by Leland Corp., Orel Hershiser's Strike Zone is a great action-oriented baseball game starring baseball's star of the same name. Nicknamed "The Bulldog" by fans, Orel Hershisers led the Los Angeles Dodgers to capture World Championship in 1988, winning MVP awards for both NLCS and the World Series in that year.

The game, true to its name and coin-op history, is an action-oriented game that offers only 2 modes of play: strike zone, and home run derby. In each, your objective is either to make as many strikes home runs as possible. The goal is simply to amass the best statistics to get your name on the Top Sluggers / Batters / Pitchers tables. This very limited gameplay is made up for by excellent animations of baseball players, and a great user interface that allows you to adjust both the speed and direction of your bat with on-screen gauges. Orel isn't a full-fledged baseball simulation by any means, but for anyone looking to do a quick homer, this is as good as it gets. Digitized voices from PC speaker and fluid player animations round off this fun breather. Recommended!
Download full game now: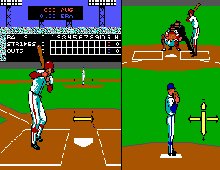 Orel Hershiser's Strike Zone screenshot
People who downloaded this game have also downloaded:
Oldtime Baseball, RBI Baseball 2, Seawolf, Games: Summer Edition, The, Earl Weaver Baseball 2