Game Downloads
You're located in category:
Jahanghir Khan's Squash
Review 1:

This game is great! I love it, but... It's difficult controls make it almost unplayable. I would like to see You control Your player with the O, P, L, M and N keys instead of the usual cursor keys and space/enter combination. The game is still great. You do know what the Squash is, right? It's that tennis-like game that's played by two players and a big wall. Heh, nice description, isn't it? Great game when You get along with difficult controls.

Review 2:

Perhaps the world's only squash game ever made, Krisalis' Jahangir Khan's World Championship Squash is a game starring famous Pakistani world champion of the same name that is fortunately good enough to satisfy all fans of this underrated sport. Up to two players can compete in hotseat mode, or try their luck against the computer players in the 32-player, 8-man leagues that can take quite a while to complete. The game sports many game features that will please fans of sport simulations, such as player statistics and skill levels that can be improved. The action itself is presented on a 3D isometric squash court, with very smooth animation of the players. You can also change between old and new squash rules, difficulty levels, and even the type of balls used in tournaments. While the controls are somewhat awkward (it's difficult to change the speed of the ball, for instance), they are playable enough to allow fast and furious action on the court.
Download full game now: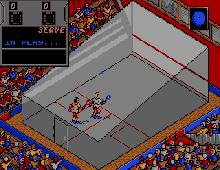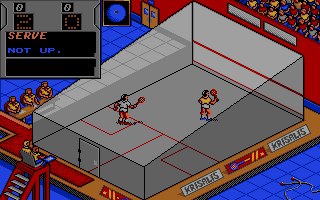 Jahanghir Khan's Squash screenshots
People who downloaded this game have also downloaded:
Campo's International Rugby (a.k.a. International Rugby Chal, California Games, Championship Manager 2, Cricket 97, Micro League Football Deluxe Edition (a.k.a. Micro League Fo