Game Downloads
You're located in category:
Campo's International Rugby (a.k.a. International Rugby Chal
Review 1:

Campo's International Rugby is a great, and largely unknown, rugby game that is endorsed by David "Campo" Campese, Australian rugby legend, who has set up his own management company after retiring from the game in 1999.

Campo's fans will not be disappointed with this game that bears his name. Campo's International Rugby features excellent gameplay, full tournament, league, and practice options, as well as a plethora of coaching choices. Although arguably not as expansive or replayable as Audiogenic's classic Wembley Rugby League, Campo features a better user interface and smoother action. The game is reminiscent of Sensible Soccer: tiny players are nicely animated, and the controls are both intuitive and easy to learn. Overall, Campo is a great arcade-oriented game that should keep fans of the sport happy for days on end, and definitely deserves better than its relative obscurity. Highly recommended!

Review 2:

This is one of those rather unknown classics which I would really count with the best. As the name can tell you, this is a rugby game. A real realistic rugby game.

It uses the same idea as all the FIFA soccer games, you control the man that is closest to the ball. It's very hard, this one, especially when you still have to learn about all the controls. I don't know if I know all of them either. This game is challenging and that's what I like.

This game wants you to go further than just playing rugby, if you're playing this game you want to win. That seems pretty obvious, but I also know games in which I'm not really interested wether I win or not. In this game, I need to win, it's ever frustrating if I don't.

I love this one and I think people who are fan of sports games should download this one. I think they will be addicted within 5 minutes too.
Download full game now: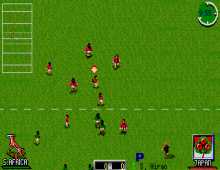 Campo's International Rugby (a.k.a. International Rugby Chal screenshot
People who downloaded this game have also downloaded:
World Cup Rugby '95, Cricket 97, Allan Border's Cricket, World Class Rugby, Wembley Rugby League