Game Downloads
You're located in category:
World Class Rugby
World Class Rugby from Denton Designs and Audiogenic is one of the best rugby games ever made. The game features squads from the 16 countries which qualified for the 1991 Rugby World Cup, as well as a Five Nations Tournament. Designed for one or two players in simultaneous hotseat mode, WCR offers several play modes including a friendly match, a league game, or the entire world cup tournament.

Everything about the game is a sign of how it is a truly a labor of love designed by fans of the sport. You can configure a wide array of options, from the color of your team's shirts, to the length of a match (between 2 and 40 minutes), color of the pitch, and the difficulty level (ranging from 0 (easiest) to 6). Similar to any other good sport game, WCR allows you to change the line-up and peruse player's statistics. Think that guy doesn't have the stamina to be in the team? Replace him with someone else.

On the pitch, the game really shines with excellent controls, smooth graphics, and a lot of detail. Controlling and switching between your players is very easy and intuitive. For the first kick of the game, you use the handy "kick-o-meter" gauge similar to a golf meter swing to determine the force and direction of your kick. Another nice feature is a radar, which shows you where the other players are. You can also watch an action replay at any time, and even save it to tape for future viewing.

With plenty of action, smooth gameplay, and a lot of customization options, WCR is a blast to play. Highly recommended for fans of the sport.
Download full game now: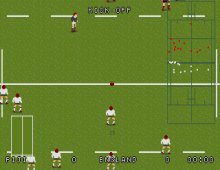 World Class Rugby screenshot
People who downloaded this game have also downloaded:
World Cup Rugby '95, Campo's International Rugby (a.k.a. International Rugby Chal, Cricket 97, Shane Warne Cricket, Wembley Rugby League