Game Downloads
You're located in category:
International Karate
Review 1:

What a dissapointment! I loved this game when I played it on my C64 but this PC conversion is just a very poor attempt on converting a classic karate game to the well known PC system. Too bad as International Karate is such a great game. But if you can live with the poor graphics and PC speker sounds you will still like it.

The game consist of different karate rounds where you will have to fight different opponents all the time. Of course they get better and better everytime. Overall not a recommended game if you are looking for a fighting game, but might be enjoyable if you are a karate fan.

Review 2:

Well, three years after the original game they seemed to have brought out a PC conversion of the C64 all-time classic International Karate. But *MyHeartBreaksAndBurstsIntoTears* when seeing this, one wonders why they raped this classic into a **** machine. It's nowhere near the original game. Although, at least the graphics produce some sort of a déja vu - if you add color in your imagination.

For those who've never played the superior Commodore 64 version, International Karate simulates a karate tournament for one or two players. During the game, you will fly around the world to various locations, and in two-player game there is a special bonus round. This is identical to Epyx' World Karate Championship, except it's missing two levels that were added to that US release. Gameplay is probably as good as it gets in CGA (although why it can't be EGA is strange-- given that most games already were EGA even in 1988). Fluid controls and varied backdrops. As I said earlier, though, it really can't compare to the C64 version, so play this one for nostalgia's sake only.

Review 3:

This makes me want to cry. Archer MaClean's Interntional Karate (and it's update, IK+) was without out a doubt the best and most fun game available on 8-bit systems.

But THIS, this is a travesty. The graphics have gone straight to CGA hell, replaced by awful blue and magenta tones, the sound is quite frankly awful - it does retain the same fluid control system as it has on other platforms.. but the presentation spoils the whole game.

I suggest that you download this game, play it for five minutes and then download Amiga version instead (also available at our site). The difference between the two is extreme.
Download full game now: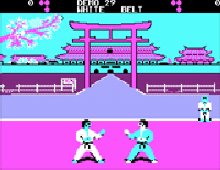 International Karate screenshots
People who downloaded this game have also downloaded:
World Karate Championship, California Games, Pole Position (Arcade), Karate Fighter, Big Game Fishing