Game Downloads
You're located in category:
World Karate Championship
Review 1:

I first played World Karate Championship on my Commodore 64 together with the other games in this series like Exploding Fist and advanced versions of World Karate Championship. The game was transferred to both the Amiga and also this EGA version to the PC. The game is quite simple. You fight against another person and you have to hit him to the ground 3 times before you win the match. Some of the hits may only count as 1 a point you may have to do it more than 3 times.

There are various movements you can make including several different kicks as well as using your fists. When you hit someone he will fall to the ground at the first hit so unlike many other games you don't have to hit your opponent thousands of times before you win and I like that as it's more realistic. Once you win a game you will travel to a new place and meet a new opponent that is a bit better than the last one.

The graphics are not very good compared to the original version but it's mainly due to the EGA graphics but also because the graphics were something the Commodore 64 version had been popular for. The controls are very poorly done and it's very difficult to get used to them. Once you have though the game can be fun and with the fast fights you can get some interesting matches. A nice fighting game but if you get the chance to play some the later games in this series try those instead of this one.

Review 2:

I remember this game on my C64 - now that was a game! Quite similar to International Karate but you fight one on one and the backgrounds were different (hehe - important, isn't it? ;) ). Unfortunately the PC wasn't as advanced as the C64 back in '86 - at least not for games. So the graphics of this one aren't too brilliant. Still can't complain - seen far worse CGA-graphics. The only thing I actually have to complain about are the controls. It's just not possible to fight very good when you always have to look to make sure you are hitting the right keys. No idea why they gave the Numpad to the 2nd player instead of the first one. I guess that will remain the secret of the programmers. However - it's also possible to play this one with the joystick although I didn't try that myself, my joystick usually got problems with older games that don't like analog joysticks (though my joystick's abandonware itself... and a classic I'd like to add!).

Anyway, once you got into the controls you can have some pretty nice fights. Personally I'd recommend International Karate+, but this game's the old classic and classics shouldn't die. Always nice for one or two rounds.

Review 3:

Quoted from MobyGames: "World Karate Championship is pretty much the same as [System 3's] International Karate, with the exception that in WKC you're given the choice to compete in either Australia or Egypt. But the looks, the moves and everything else is identical. The objective of WKC is to get the highest possible dan (karate grade, determined by belt colour) and become the world champion. And of course, to get the highest score. In between all the fighting, there are action-sequences where you have to deflect bouncing balls etc, which gives you extra points." A great game with an equally great music (even on a PC speaker), this is one of my most favorite Epyx games.
Download full game now: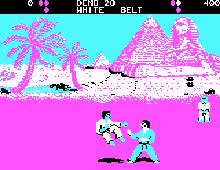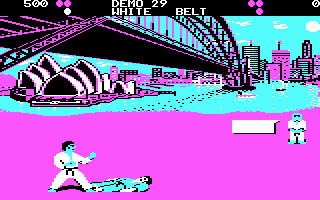 World Karate Championship screenshots
People who downloaded this game have also downloaded:
International Karate, World Games, Best of the Best (a.k.a. Kick Boxer 2), California Games, Winter Games