Game Downloads
You're located in category:
Grand Prix Circuit
Review 1:

I'm not that much of an Action- or Sports-Game-Fan. But I like those old simple Formula One-Games. Don't come up with the new ones - far too complicated for me (I actually own a drivers-license, but that means NOTHING!). This one is quite simple, but very enjoyable - and VERY addictice I had to find out (ah... just ONE more round!). Only one or two rounds and you are familiar with the controls (only the arrow-keys) -. gear is automatic. You've got the choice between three different cars and you can drive the whole Grandprix. You even got to qualify - the race takes only three rounds - sometimes I wished it would be some more, but after all it's O.K. - the best Racing-Game I've came across. Now don't come up to me and send me others you consider better (you CAN do that, but please warn me, that there is a BIG e-mail coming, otherwise I will think one of my accounts is just not workin'...). You don't have to be a racing-fan to enjoy this game - simple and good, I really like it!

Review 2:

An early racing game that features all Grand Prix tracks and decent computer opponents. Climb into the cramped quarters of a Formula One race car as you race through overpasses, treacherous tunnels, snake-like curves and sharp corners. As in real-life Grand Prix, accumulate points on the circuit to become the world's best driver. Overall, a solid arcade-style racing game that's short on realism but long on sheer fun.
Download full game now: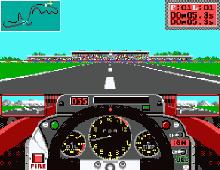 Grand Prix Circuit screenshot
People who downloaded this game have also downloaded:
Grand Prix Unlimited, One on One (Jordan vs. Bird), World Circuit (a.k.a. Formula One Grand Prix), F1 World Championship Edition, Ferrari Formula One