Game Downloads
You're located in category:
One on One (Jordan vs. Bird)
Review 1:

I remember playing this game when I was in year 3, I use to always play my friend, and beat him every time :). Michael Jordan faces off against Larry Bird in a one-on-one challenge! You can play against the computer or another player. We all know that Bird would win in a real game, but it is fun to simulate this scenario nonetheless. Some of the events included in this game are 1 on 1 games, Slam Dunk contest, Follow the Leader, and a 3 Point shoot-out.

Review 2:

Well, the game isn't bad, but the controls... uh-oh! Make sure you don't have to rely on the keyboard when you want to play this. The game itself is a pretty simple one on one between 2 basketball-legends - Larry Bird and Michael Jordan. It's not THAT important whether you know about them or not (though I'd seriously doubt your interest in basketball if those names don't sound familiar to you ;) ). The graphics are pretty minimalistic but should be enough. I recommend you play this against a friend - I'm sure that's pretty enjoyable, otherwise - for fans only.

Review 3:

Follow-up to One on One from 1983. Another basketball game based on the televised "one-on-one" basketball exhibitions of the 60's, this time featuring Larry Bird and Michael Jordan. This time, EA adds EGA graphics to the original gameplay as well as additional play-modes such as 3-point contest and slam dunk contest. A great game in every respect, although it doesn't have quite the same charm as its CGA predecessor... probably because it's no longer pioneering the new genre ;) Still a must-play for every basketball fan, though.
Download full game now: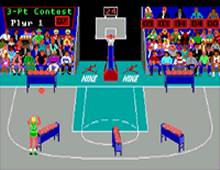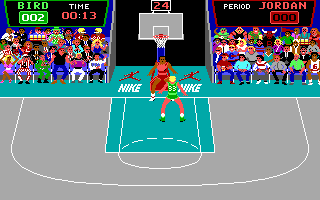 One on One (Jordan vs. Bird) screenshots
People who downloaded this game have also downloaded:
One on One (Irving vs. Bird), Lakers vs Celtics, Oregon Trail Deluxe, California Games, Hardball V Enhanced (a.k.a. Hardball 5 Enhanced)