Game Downloads
You're located in category:
Dolphin Powerboating Simulator 3
Dolphin Powerboating Simulator III is the last and best game in an obscure line of sailing simulations developed and published by Dolphin Marine Systems as shareware in the early 1990s. The game, like its predecessor in this series, lets you pilot a sailboat around North America continent in several 'courses.' The game is a big improvement over its predecessors in several ways: more options (such as boat engine types) prior to setting sail, sharp EGA graphics, and a more realistic environment that takes into account variables such as wind strength and direction, water conditions, and fuel availability. The boat is easier to control despite having more dials and buttons, and each course you can sail in the game is introduced with a lengthy, nicely written briefing pages that come complete with maps and backgrounds.

Despite all these improvements, though, the game is not that much fun to play - probably because, in the absence of competition of any kind (such as 'racing' modes), it is hard to get excited over an EGA sailing game that cannot be very realistic due to technological limitations at that time. Worth a look as a historical novelty, but don't expect to enjoy it at any great length. If you are interested in a sailing game, Interstel's First Expedition is more interesting in my opinion, even if it doesn't look as good.
Download full game now: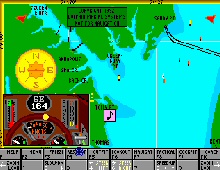 Dolphin Powerboating Simulator 3 screenshot
People who downloaded this game have also downloaded:
Car & Driver, Wing Commander: Academy, PT Boat Simulator, Precision Approach