Game Downloads
You're located in category:
PT Boat Simulator
PT Boat Simulator is an excellent improved version of PT-109, an outstanding submarine sim published by Spectrum Holobyte in 1987. After developer Digital Illusions disappeared from the gaming industry for several years, they returned in 1994 with this improved version of their classic, and highly underrated, simulator.

As in PT-109, PT Boat Simulator puts you in the role of skipper of the most versatile fighting machine of the WWII era: the PT Torpedo Boat. The interface and controls will be familiar to PT-109 players, and the graphics and sounds have tremendously been improved. PTBS also offers many more missions than its predecessor: 45 different historical missions spanning 5 theatres of action in the Pacific and Mediterranean. You can now choose the difficulty level to suit your skills from 5 available levels, as well as practica tactics before the actual action.

The realism of PT-109 that makes it a classic remains intact and even enhanced in this semi-sequel. You have full control of all weapons including torpedoes, depth charges and guns. Authentic smokescreen and flares are simulated, as are autopilot and "Rapid Deploy" options. You will encounter different types of enemy ships, submarines, as well as aircraft. Excellent realism, intuitive user interface, and the plethora of gameplay options make PT Boat Simulator a must-have for armchair sub commanders everywhere. A worthy sequel/remake of PT-109, and a game that remains highly playable to this day.
Download full game now: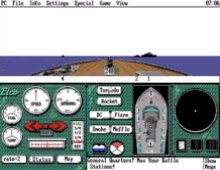 PT Boat Simulator screenshot
People who downloaded this game have also downloaded:
Red Baron, Command Aces of The Deep, Aces of The Pacific